News — nokta makro
Posted by Joeriza Molde on

Technical Support and Repairs Need technical support and / or service for your Nokta Makro detector? If so please contact your local Nokta Makro Service Center from the list here below:   USA Nokta Makro Service CenterAndy O'Neal120 Black Ave. Chaffee, MO 63740+1 573 270 0447noktarepairs@wedigmetaldetectors.netwww.wedigmetaldetectors.net Europe International Detector Center GmbHBunde-West 37 26831 Bunde Germany+49 (0)49537082810customer.support@idc-detektor.de / technical.service@idc-detektor.dewww.idc-detektor.de United Kingdom LP Metal DetectingUnit 18 Orchard Business Park Kingsclere RG20 4SY+44 1635 597975info@leisure-promotions.co.ukwww.leisure-promotions.co.uk Russia Reicom Group117246 Москва, Научный проезд 19+7 (495) 411 9188sales@reicom.ruwww.reicom.ru     Shop Nokta Makro Metal Detectors - Click Here                ...
Posted by Louise Marquez on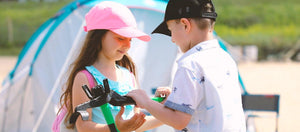 Nokta Makro Mini / Midi Hoard Comparison Nokta Makro releases the most fun way to introduce kids to metal detecting with the world's first waterproof kids detector series! Note: Although the Mini Hoards are released as part of the kids' detectors series, this is actually a very affordable, simple to use, waterproof detector that adult beginners can also prefer.    Variants Nokta Makro Mini Hoard - Kids Detector Series Nokta Makro Mini Hoard Cool Kit - Kids Detector Series Nokta Makro Midi Hoard - Kids Detector Series   For Entire Collection - Click Here     MINI HOARD MIDI HOARD For...
Posted by Destination Gold on
Introducing a new 8'' coil for the PulseDive Scuba Detector & Pointer! The new 8'' coil will add extra depth and great coverage to the PulseDive making it competitive with higher-end underwater metal detectors that cost hundreds or even thousands of dollars! Lightweight - can be swung faster than other underwater detectors.   Nokta Makro Replaceable Scuba Coil 8'' Black - PD   Nokta Makro Replaceable Scuba Coil 8'' Yellow - PD   Nokta Makro Search Coil Cover Scuba (8")