Garrett PD 6500i ™ Walk-Through Metal Detector
Garrett PD 6500i ™ Walk-Through Metal Detector
Note: Garrett Security Detectors take 1-2 weeks to ship
MEETS THE WORLD'S HIGHEST TEST CERTIFICATIONS.
ACCURATE PINPOINTING
With more than four times the detection coils of competitive models, the PD 6500i

™

 

provides uniform detection and precise pinpointing. Independent zone indicator lights on both side panels identify not only height but also left, center and right locations for one or more objects passing through the archway.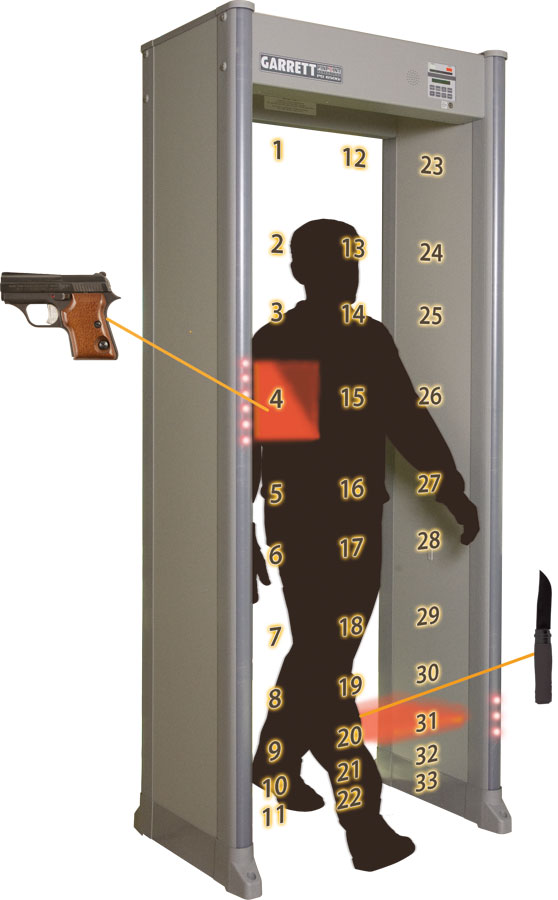 33 ZONES
View a demonstration of the PD 6500i's 33 pinpoint zones. Identify multiple target locations precisely from head to toe on the left, center, and right sides of the body.
INTERNATIONAL SECURITY STANDARDS
PD 6500i™

 

meets the world's highest test certifications, including the following international airports: TSA (U.S. airports), ECAC (European airports), STAC (French airports), AENA (Spanish airports), CJIAC (Japanes airports) 
PORTABLE PROTECTION
Fast, easy, versatile security. Equipped with optional casters and battery module, the PD 6500i™

 

can be rapidly deployed at special events, stadiums, schools, and other large venues.
No wires to deal with. Easy to move to another location with a moment's notice.
ADDITIONAL FEATURES
OPTIMUM PERFORMANCE - More than 20 standard programs for security versatility. Multiple units can be installed as close as 2 inches from each other.
DUAL DETECTION - With transmitters and receivers in each panel, the PD 6500i is the equivalent of two detectors in one. By scanning from both sides, the PD 6500i provides superior detection, uniformity and performance.
DIRECTIONAL COUNTER - With four settings for counting (forward, reverse, subtract in reverse, and bi-directional).
NETWORKING ABILITY - Manage walkthroughs individually or as groups and perform statistical analysis via network with iC Module.
MULTI-BRAND COMPATIBILITY - Can be added to existing checkpoints without having to replace other brand units. Includes multiple channels and 2,300 selectable operating frequencies.
SUPERIOR VERSATILITY - Selectable settings designed for airports, courthouses, prisons, schools, facilities, special events, mass transit, loss prevention and many other applications.
TAMPER-PROOF - All settings are secured with a key lock and two levels of access codes. Further security is accomplished with a cabinet lock which prevents unauthorized access to physical cables, connectors and electronics.
ADVANCED BROADBAND DETECTION TECHNOLOGY - Provides superior target analysis, ferrous and non-ferrous weapons detection, discrimination and higher throughput.
PACING LIGHTS - At the entrance display universal "wait" and "proceed" symbols for traffic control.
INTERNAL USB PORT - For updating software.
RANDOM ALARM FEATURE - Provides ability to randomly alarm on a selected percentage of non-alarming persons; adjustable from 0 to 50 percent.
ALARMS - Audible tone and volume adjustable. Bright LED visual alarm.
Technical Specifications 

| | |
| --- | --- |
| Detection Zones | 33 zones (left, right and center); visual and remote alarms. |
| Multi-Unit Synchronization | Synchronization with wired AC power lines or with manual frequency selection for wireless operation |
| Visual Displays | LED zone indicator lights on both panels. Pace lights on entry side only, with intuitive images. |
| Access Control | Eight-button keypad with numerical codes. Keypad lock to control access and to enable/disable the keypad. |
| Operating Temperatures | -4º F (-20º C) to +149º F (65º C); Humidity to 95% non-condensing. |
| Power | Fully automatic 100 to 240 VAC, 50 or 60 Hertz, 45 watts; no rewiring, switching or adjustments needed. |
| Regulatory Information | Meets international airport standards such as TSA, ECAC, STAC, AENA, CJIAC, DFT. Meets additional standards and requirements such as USMS, NIJ-0601.02, NILECJ. Meets Electrical Safety and Compatibility Requirements for CE, FCC, CSA, IEC, ICNIRP, IEEE. |
| Weatherproofing | Meets IP 55, IP 65, IEC 529 Standard for moisture, foreign matter protection |
| Construction | Attractive scratch and mar-resistant laminate. Detection Heads and Support: heavy duty aluminum. |
| Control Outputs | Solid state switches (low voltage AC or DC) for operating external alarms and control devices. |
| (optional) Remote Control | Desktop Remote Control with Zone Indication; personal computer with wired or wireless iC Module; or IR remote |
| (optional) Networking | Manage individual or groups of walkthroughs and perform statistical analysis of throughput with wired or wireless iC Module and client software. |
| Warranty | 24 months, limited parts and labor |
QUESTIONS & ANSWERS
Have a Question?
Be the first to ask a question about this.
Ask a Question
---
We Also Recommend